Thesis Statement
Package design is influenced by socioeconomic status. It goes without saying that the amount of wealth an individual has leads to increased access of experiences or products. I argue that socioeconomic status is one of the key factors that influence package design, even in cases where the products are the same. Through research and observation of various products, I will create a set of three packages for three different products, displaying the most common design traits used to market to each socioeconomic class.
Cotton swab package for lowest price point.
Cotton swab package for middle price point.
Drawer box design for user convenience as well as an interesting unboxing experience.
Cotton swab package for highest price point.

Project Goals
My ultimate goal throughout this project has been to demonstrate the variety of factors that go into designing a particular product, with economic class at the forefront. In terms of action, I want my audience of consumers as well as designers, to have a better sense of economic class in terms of design strategy and execution.

Research
I started by talking to people in different fields to gain a better perspective. The first person I spoke with was Robbie Munro, who works as a lead sales rep for Nabisco. She indicated that stores will not carry products based on their typical consumer. For example, a Meijer located in a lower socioeconomic region will not feature as many health-conscious items, whereas a Meijer in a more affluent region will be sure to feature healthier, and often times, more expensive, products. Products are typically given a specific space in stores, and they do pick and choose these products based on what is likely to sell. Location plays an enormous role in where particular products are sold.
I then also spoke with Kristina Scobie from Newell Brands. As a designer, Kristina will often have projects where economic class determines how the final package design appears. When asked about how the designers differentiate between a package that is at a low price point, and a package placed at a much higher price point, she had told me that there are three initial factors that come into play; color, photography (or other forms of imagery), and tone of voice.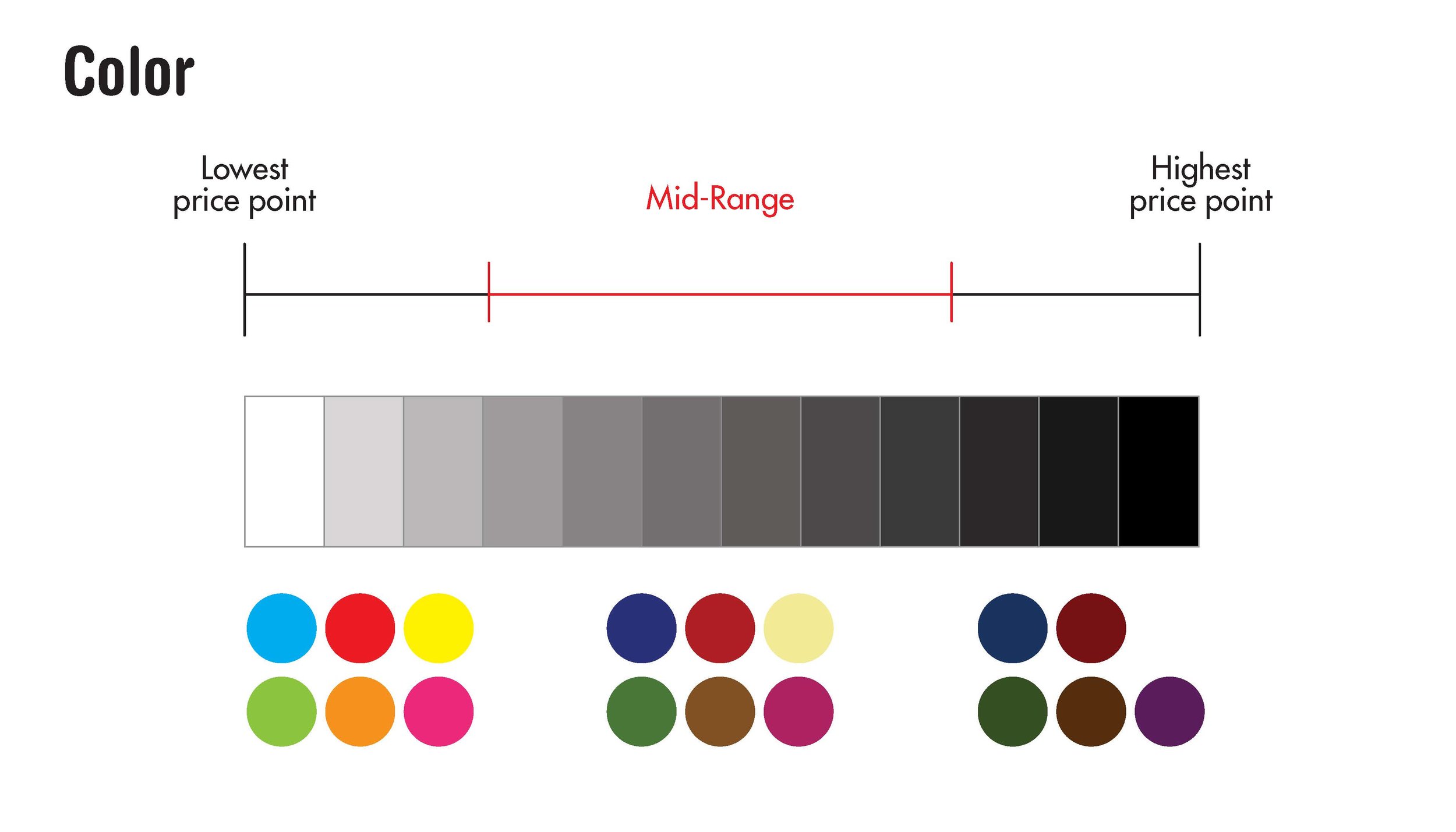 Color works as a sliding scale, on the low end the overall color scheme is saturated, lighter in value, and usually includes a great deal of white. As we go up the scale in price point, the color schemes begin to become more muted and darker overall.
In the lower price point the product almost always has to be shown on the package, this is done by either a photograph at a 3-quarter angle to show more than one side of it, or simple windows to openly display the product. The mid-range price point is where you being to see straight on photographs and icons or other symbolism to replace and cut down the copy that appears on the package. In the high price point range, the product is either displayed in a unique fashion, or its not visible at all.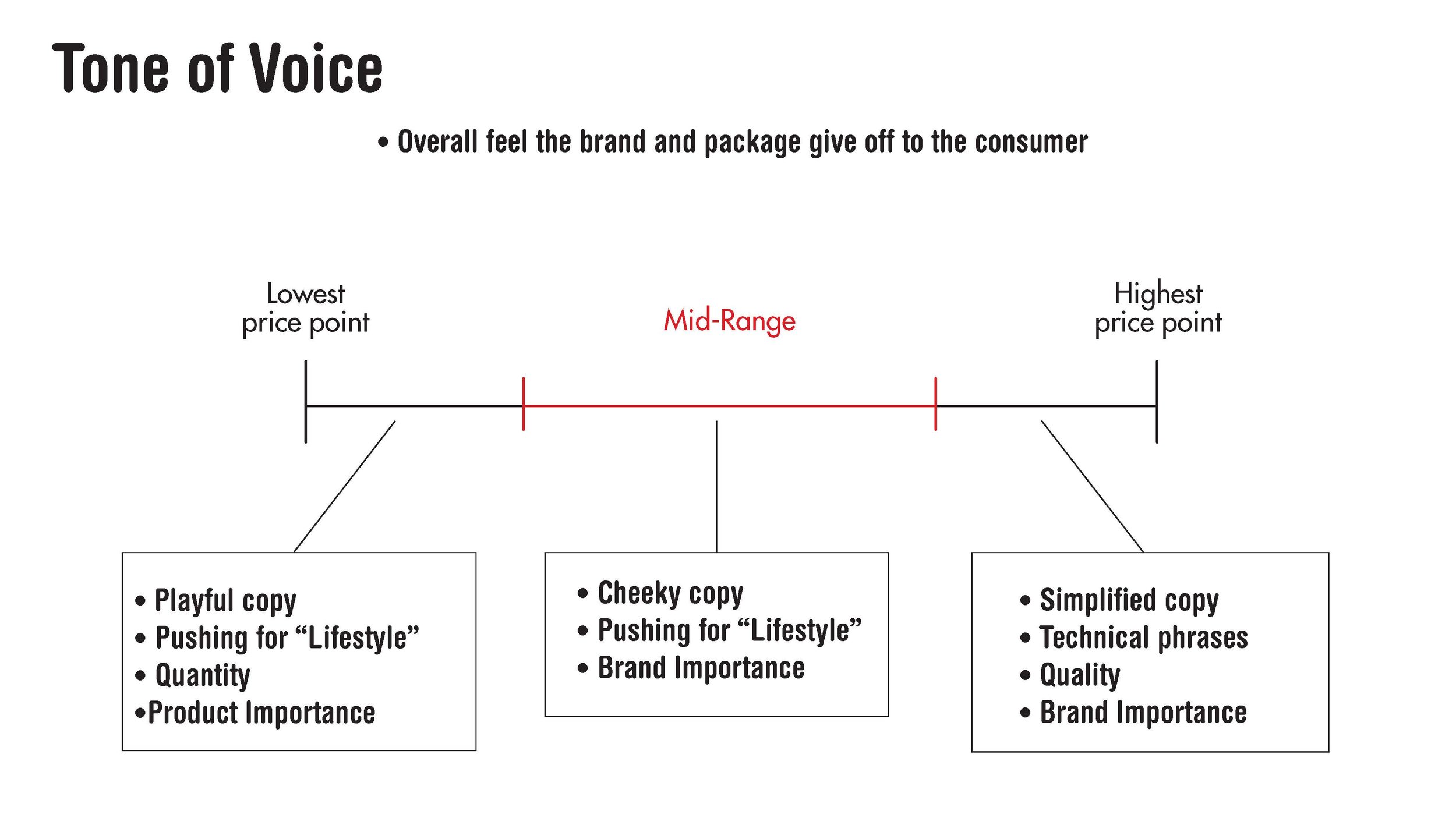 Tone of voice is the overall feel the brand and package give off to the consumer. On the low end, the copy and design as a whole is more playful and marketing towards a lifestyle, for example phrases like "You can use this for the whole family!" push towards getting specific and relatable to the consumer's life some how. There is also a importance on the quantity of the product, and the product itself. The mid-rage can be a little more cheeky in their copy, sarcasm, banter, things along those lines. Lifestyle still remains an important marketing factor that is included, but brand name begins to become a little more important. As for the high end, the copy is drastically simplified down to just technical phrases in order to make the product feel prestige. Quality becomes far more important than quantity, and the brand's name is significantly more important than the product itself.
I began visiting stores and searching for a variety of products that are marketed at different price points but are essentially the same product. These observations were also to help figure out a product that would be best to design packaging for each socioeconomic class using the information I had learned thus far.
Field study of packaging found throughout Target.
Process
The product I decided on was cotton swabs. It is a product in which people all across all economic classes use, and it has not had a whole lot of competition design and marketing wise compared to a lot of other products out there. I then had to come up with a theoretical brand name that would sell cotton swabs. I had decided on the name Beveren. Beveren is the name of a rabbit and the small town in Belgium in which the rabbit was first bred. This breed of bunny is known for being incredibly soft and clean, which seemed to be a rather fitting name for a brand that makes cotton products.

I began working on an identity for Beveren in hopes to come up with something that translated well in appearance across each price point.

I had learned from an interview with Joann Atkin, the associate professor of marketing at Western Michigan University, that color plays a very crucial roll in signaling to the consumer what category of the product falls into before really even approaching it. Such as health, beauty, etc…

This is why when you go down the cotton swab aisle there is an overwhelming amount of blue packaging. I chose green as my brand's main color because its different enough to stand out in the aisle against all of the blue packaging, it still implies health, and vaguely implies organic or environmentally friendly, even if that isn't actually the case. The rounded san-serif typeface gives the letterforms a soft appearance, while the rabbit is moving forward, gracefully leaping off of the brand name to give the impression of positivity.

Once I had the finalized brand identity for Beveren, I began sketching out ideas of what these packages would look like. The examples shown below are all for the lower end. As soon as I had a general idea of the direction I was going, I started experimenting with a variety of ideas for windows to display the product.
After I had a general direction for each category, I began making mockups of how the package was going to look and feel in 3D form which lead to a lot of trial and error for all three different packages. The goal was to have the lower price point box mimic the middle range package to an extent, and for the higher price point package to be dramatically different from either of the other two.
For my final lower price point package…
Color: I went with a saturated green, white, and a dark green to keep the number of colors shown on this box to a minimum.
Photo/image: I used a simple shape for the window and had it wrap around a corner in order to see more than one side of the cotton swabs inside.
Tone of Voice: I put more emphasis on what the product is instead of the brand name by adjusting the type hierarchy. The quantity is the only other piece of copy on the front of the box other than the product name and brand name. A list of the various uses for cotton swabs are placed on the back of the box along with icons of each type of use.
For the middle price point package…
Color: For the overall color scheme I went with a more muted green at different values, as well as small amounts of white for a cleaner look.

Photo/image: I shot a straight on photograph of the product for the cover of the box arranged in a slight pattern. The icons replace the list of uses all together and were placed on the side of the box, where the back only consists of a broad description of the product and uses as well as the warning that is required to be on there.

Tone of Voice: For the tone of voice I adjusted the type hierarchy so that the brand name becomes a little bit more important than the product itself. The quantity stays the same.
For more of a convenience and unboxing experience, I made the middle price point package a drawer box for easier access instead of having to dig into a box completely. As the box slides open there is also an illustration of the bunny hopping along.
For the high price point package I used a glass container to hold the product, with a thick label or sleeve like package to wrap around it.

Color: For the main color I went with a dark grey, white for the brand identity and type, and a light green for the inside of the wrap to give it a pop of color from the sides, as well as to remain consistent for the brand.
Photo/image: The product is openly displayed from the sides
Tone of voice: The brand's icon of a rabbit is the first thing the consumer sees from the front of the package, relying on its identity to be its selling point. The name of the brand, and quantity is on the back of the package. The copy is drastically cut down to just technical phrases and bare-bone descriptions of the product.
The label is removable to reveal the jar free of any sort of branding in order to be reused for it's aesthetic alone. To sit on a bathroom shelf or counter and look nice and organized.
The inside of the label has the additional copy that was required to be on there, but hidden away to where it can still be read if necessary.
As for my final display of the final products, I had also created a poster to go along with my packages in order to outline the main design factors that distinguish each price point for easy reference.
Conclusion
Based on my research, process, and outcomes, I feel that I have effectively produced three packages that accurately represent the design strategies typically used when differentiating similar products that are marketed towards different socioeconomic classes. If I were to continue exploring this project I would research further into the printing methods used and production costs for each of these packages in order to stay within a more realistic design restriction that would typically be placed on such a product in production.
Resources
Atkin, J., Package Design from a marketing point of view [Personal interview]. (2018, February 20).
Branding Packaging Design 101 - Jordan and Fed of Hungry Studio [Audio blog interview]. (2016, June 23). Retrieved January 15, 2018, from http://www.foodstartupspodcast.com/hungrystudio/
Cartwright, J. (2017, June 9). The Best Craft Beer and Art Director Collabs [Web log post]. Retrieved January 15, 2018, from https://eyeondesign.aiga.org/happy-hour-17/
Design Matters: Andrew Gibbs [Audio blog interview]. (2011, December 02). Retrieved January 12, 2018, from http://www.debbiemillman.com/designmatters/andrew-gibbs/
Drew, J. T., & Meyer, S. A. (2008). Color management for packaging a comprehensive guide for graphic designers. Mies: Rotovision.
DuPuis, S., & Silva, J. (2011). Package design workbook: the art and science of successful packaging. Beverly, MA: Rockport .
Eldridge, K. (2006). 1000 bags, tags & labels: distinctive design for every industry. Gloucester, MA: Rockport.
Freeman, E. (2016, January 7). McDonald's revamps their packaging [Web log post]. Retrieved January 15, 2018, from http://www.thedieline.com/blog/2016/1/7/mcdonalds-revamps-their-packaging
Freeman, E. (2016, February 8). Target Updates Their Market Pantry Line [Web log post]. Retrieved January 15, 2018, from http://www.thedieline.com/blog/2016/2/5/target-updates-their-market-pantry-line
Grey, M. (2018, December 18). Shelf Impactors: Measuring the True Value of Design [Audio blog post]. Retrieved January 15, 2018.
Holland, D (2002). Design Issues: How graphic design informs society. New York: Allworth
Johnson, T. C. (2016, February 3). Budweiser's New Redesign [Web log post]. Retrieved January 15, 2018, from http://www.thedieline.com/blog/2016/2/3/budweisersnewredesign
Kozak, G., & Wiedemann, J. (2008). Package design now! Köln: Taschen.
Morley, M. (2015, October 27). The World's Most Expensive-looking Font Might Surprise You. Retrieved February 13, 2018, from https://eyeondesign.aiga.org/the-worlds-most-expensive-looking-font-might-surprise-you/
Mouradian, N. (2018, January 11). 20 Juice Packaging Designs to Help You Get Healthy In the New Year [Web log post]. Retrieved January 15, 2018, from http://www.thedieline.com/blog/2017/12/11/get-healthy-this-new-year-with-20-juice-packaging-designs
Munro, R. (2018, January 20). The Store's role in selling products [Telephone interview].
Phillips, R. (2001). Packaging graphics. Gloucester: Rockport .
Scobie, K. (2018, February 8). Designing Packaging for Large Brands [Telephone interview].
T. (2013, June 03). Retrieved January 15, 2018, from https://www.youtube.com/watch?v=y4ItRUXmSi4
Target in store visit, photos taken
Wheeler, A. (2013). Designing brand identity: an essential guide for the whole branding team (4th ed.). Hoboken, NJ: John Wiley & Sons, Inc.